There are two ways to send faxes and other documents with the eComFax® solution:
Using the eComFax® platform or;
Sending from the eComFax platform
To send a fax from the eComFax® interface, the user should access the "New Fax" tab.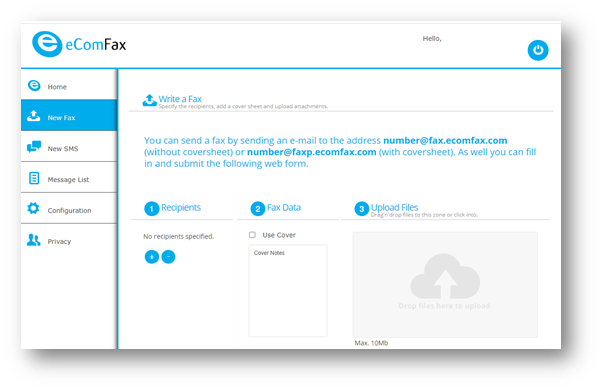 When sending a normal fax, the user should specify the following three fields: (1) Recipients, (2) Fax Data and (3) Attachments.
1 – Recipient(s):
There are other fax types but when sending a normal fax, user should indicate the recipients fax number and name. The same fax can also be sent to multiple recipients. Click on the "+" symbol to add more fax destinations.
For more information on how to send other fax types, please see section 'Other Advanced Messaging Options'.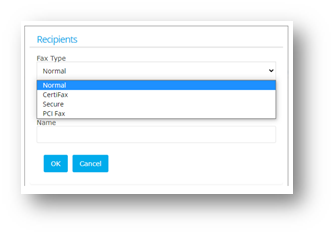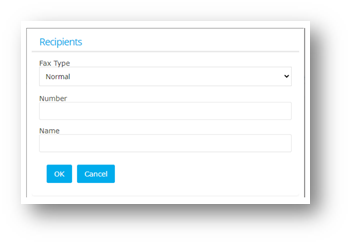 2 – Fax Data:
It is possible to send a fax with our without the cover sheet. Simply click the box "Use Cover" if you wish to send with, or leave unchecked if you wish to send without a cover sheet. If cover sheet is checked, simply add any relevant information.
3 – Uploading Files:
One or more document(s) can be attached at a time by 'drag & drop' or 'browse & upload' (max size 10MB). Over 60 types of formats are supported.
Once a recipient has been added, the fax type and fax data specified, and file(s) attached, click "Send Fax".

Using the cover page: It is optional to use a cover page. Select it and fill in the information from the cover page.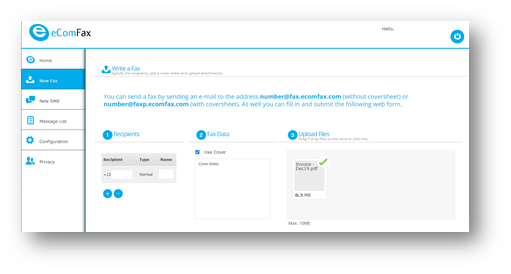 Confirmation message on the transmission status
Once the fax has been sent (or the number of attempts to send has been exceeded), the user will receive an email notification informing them of the transmission status of that fax. Status "OK" means that the fax has been delivered successfully. Relevant metadata and sent fax image are also attached: