There are two ways to send faxes and other documents with the eComFax® solution:
Directly from your email.
Sending without a cover page
To send a fax without a cover page, follow the next steps:
In the <To> field, indicate the fax number you wish to send a fax to followed by syntax "@fax.ecomfax.com". (ie. faxnumber@fax.ecomfax.com)
Example: Sending a fax to the fax number '1212444333' would look like → 1212444333@fax.ecomfax.com.
In the <Subject> field first enter the user's PIN code, followed by the SUBJECT content. Do not leave a space between the PIN and the SUBJCT content. A PIN code is a 4-digit number used for security purposes. The PIN code can be accessed from the eComFax® web interface under <Configuration_Delivery>.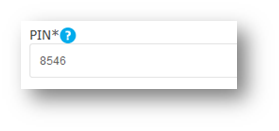 Note: In case DomainKeys Identified Mail (DKIM) validation technique is used, PIN entry is not needed. DKIM is an email authentication method designed to detect forged sender addresses in emails (email spoofing), a technique often used in phishing and email spam. It is specific to email providers whether DKIM is available or not (eg. Microsoft 365 has DKIM built-in).
In addition if you are on our Enterprise subscription and using an email domain, you also do not need to use a pin.
Attach the document that should be sent via fax; Please note that only the attachment(s) will be sent. The body of the email will be ignored.
Click on the "send" button.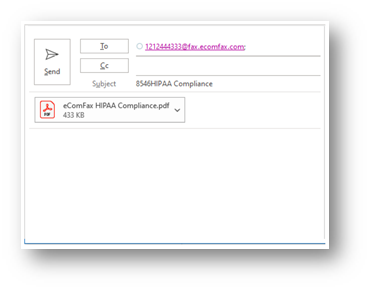 To send with a cover page
In order to send a fax with a cover page, follow the same steps as when sending a fax without a cover page but with the following adjustments and considerations:
In the <To> field letter 'p' should be added with syntax <@faxp.ecomfax.com>. (ie. <faxnumber@faxp.ecomfax.com>).
The content of the SUBJECT field will be used as NOTES in the cover page.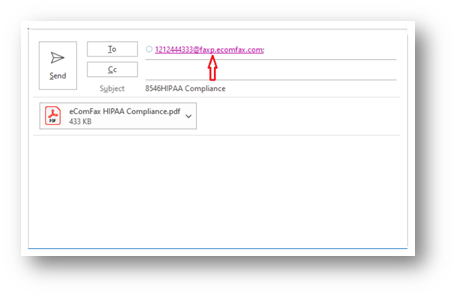 Confirmation message on the transmission status
Once the fax has been sent (or the number of attempts to send has been exceeded), the user will receive an email notification informing them of the transmission status of that fax. Status "OK" means that the fax has been delivered successfully. Relevant metadata and sent fax image are also attached: